© 2006-2021 by Dana Davis

All rights reserved. No part of this website may be reproduced or transmitted in any form or by any means without written permission from Dana Davis.


Welcome to my Extras page!

Here you'll find free stories/articles to read, as well as fun facts about my family tree. I'm an avid genealogy detective and have quite a number of infamous and interesting people going back many generations. Enjoy!


Name, Title, Era & Relation
Sir Edward Morgan 1st Baronet Of Llantarnam Monmouthshire Wales died 24 June 1653 CE 11th great grandfather
George Calvert English Knight and Lord 1579 - 15 April 1632 CE 12th great-grandfather
Margaret Plantagenet 8th Countess of Salisbury died May 27, 1541 CE Tower of London (Beheaded) 17th great-grandmother
William Hastings 1st Baron Hastings died June 13, 1483 CE - Tower Green, London (Executed) 18th great-grandfather
Robert the Bruce King of Scotland 1274-1329 CE 18th great-grandfather
Sir Leonard Hastings Lord of Leicestershire circa 1396 - Oct 20, 1455 CE 19th great-grandfather
Sir John de Bohun Baron of Midhurst Nov 14, 1301 - Dec 5, 1367 CE 19th great-grandfather
Constance of York Countess of Gloucester 1374 - November 28, 1416 CE 20th great-grandmother
Eleanor of Province Queen Consort of England c. 1223 - 24/25 June 1291 21st great-grandmother
Henry III Plantagenet King of England Oct 1, 1207 - Nov 16, 1272 CE 21st great-grandfather (maternal line)
Edward III Plantagenet King of England November 13, 1312 -June 21, 1377 CE 22nd great-grandfather
Phillipa of Hainault Queen Consort of England June 24, 1314 - Aug 15, 1369 22nd great-grandmother
Richard III Plantagenet King of England Oct 2, 1452 - Aug 22, 1485 CE 19th great-uncle
Margaret Plantagenet Queen consort of Scots Sep 29, 1240 - Feb 26, 1275 CE 21st great-aunt
John Lackland King of England 24 Dec 1166 - 18/19 Oct1216 CE 22nd & 25th great-grandfather (maternal & patermal lines)
Eleanor of Aquitaine Queen of France and England Dec 6, 1122 - April 1, 1204 23rd great-grandmother (maternal line)
Henry II Plantagenet King of England March 5, 1133 - July 6, 1189 CE 23rd great-grandfather (maternal line)
Margaret verch Llewelyn Princess of Wales born circa 1202 CE 23rd great-grandmother
Thomas de Berkeley 1st Baron Berkeley July 23, 1245 - July 23, 1321 CE 23rd great-grandfather
Llewellyn 'The Great' Prince of North Wales died in 1240 CE 24th great-grandfather
Joan Plantagenet Lady/Princess of Wales circa 1188 - Feb 2, 1237 CE 24th great-grandmother
Owain ap Gruffydd King of Gwynedd Wales circa 1100- Nov 1170 CE 25th great-grandfather
Henry I Beauclerc King of England Sep 1068 - Dec 1, 1135 CE 25th great-grandfather (paternal line)
Matilda Flanders Queen of England died Nov 2, 1083 26th great-grandmother
William the Conqueror King of England Oct 14, 1024 - Sep 9, 1087 CE 26th great-grandfather
Gruffudd ap Cynan King of all Wales circa 1055 - 1137 CE 26th great-grandfather
Rhodri ap Merfyn King of the Britons circa 820 - 878 27th great-grandfather
Merfyn Frych King of Gwynedd circa 825 - 844 CE 28th great-grandfather
Diarmait mac Murchada King of Leinster Ireland circa 1110 - 1 May 1171 CE 26th great-grandfather
Sitric/Sigtrigg "Silkenbeard" Viking King of Dublin circa 970 -1042 CE 29th great-grandfather
Slani ingen Brian Princess of Munster Ireland circa 980 - 1037 CE 29th great-grandmother
Gormflaith O'Faelain Queen of Dublin & Ireland circa 960-1030 CE 30th great-grandmother
Brian Bóruma mac Cennétig King Of Munster Ireland circa 927 - 23 April 1014 CE 28th and 30th great-grandfather
Duncan I (Donnchad I mac Crinain) King of Scots Aug 15, 1001 - Aug 14, 1040 CE 27th great-grandfather
Bethóc ingen Mail Coluim meic Cináeda Princess of Scots 984 - 1045 CE 28th great-grandmother
Malcolm II "The Destroyer" (Mail Calium II mac Cinaed) King of Scots 954 - November 25, 1034 CE 29th great-grandfather
Kenneth II (Cinaed II mac Domnaill King of Scots circa 932 - 995 CE 30th great-grandfather
Malcolm I (Mael Caluim I mac Domnaill) King of Scots died 954 CE 31st great-grandfather
Donald II "The Madman" (Domnaill mac Cosantine) King of Scots circa 862 - 900 CE 32nd great-grandfather
Constantine I (Consantín mac Cináeda) King of Picts and Scots circa 836 -877 CE 33rd great-grandfather
Kenneth I MacAlpin (Cináed mac Ailpín) King of the Picts died February 13, 858 34th great-grandfather
Olav II Haraldsson "the Saint/Digre" den Hellige King of Norway 995 - 29 July 1030 CE 32nd great-grandfather
Cnut the Great (Knud I Svendson) King of Denmark, Norway and England circa 995 - Nov 12, 1035 32nd great-grandfather
Svend I Haraldsen "Forkbeard" Tveskæg King of Denmark died 3 Feb1014 CE 33rd great-grandfather
Harald "Bluetooth" Gormsson King of Denmark and Norway circa 935 - 985 CE 34th great-grandfather
Anund/Emund Eriksson King of Sweden (Birka) circa 832 - 900 CE 34th great-grandfather
Edward I "The Elder" King of the Anglo-Saxons died July 17, 924 34th great-grandfather
Alfred "the Great" King of the Anglo-Saxons 849-899 CE 35th great grandfather
Charles II "the Bald" Western Emperor 13 June 823 - 6 Oct 877 CE 34th great-grandfather
Charles 'the Younger' King of the Franks ruled 772 - 4 Dec 811 CE 35th & 38th great grandfather (father's line & mother's line)
Pépin the Short King of Franks circa 714 - Sep 24, 768 CE 37th & 40th great-grandfather (father's line & mother's line)
Charlemagne "Charles the Great" King of the Franks, King of Italy & Holy Roman Emperor 2 April 742 - 28 Jan 814 CE 36th & 39th great-grandfather (father's line & mother's line)
Hildegard 2nd wife of Charlemagne 758 - 30 April 783 CE 36th & 39th great-grandmother (father's line & mother's line)
Witzlaus I of Obotrites King of Obotrites killed in 795 CE 40th great-grandfather
Adeltrude Princess - daughter of Charlemagne & Gersuinda 774 - May 29, 852 CE 40th great-grandmother
Theodoric "the Great" King of the Ostrogoths 454 - August 30, 526 CE 43rd great-grandfather
Criomhthann Niadh Nár mac Lughaidh Rí na h'Éireann circa 1st century BCE 47th great-grandfather
Conchobhar Arbratruad mac Fionn File Rí na h'Éireann circa 102 - 44 BCE 48th great grandfather
Conaire I Mor Ui Eremoin 97th Monarch of Ireland circa 1st century BCE 59th great-grandfather
Eterscél Mór mac Eoghan Rí na h'Éireann 1st century BCE/1st century CE 60th great-grandfather
Maedhb ingen Echdach Queen of Connaught circa 180 BCE 63rd great-grandmother
Ailill Mór mac Ros Ruadh King of Connaught circa 180 - 132 BCE 63rd great-grandfather
Iulia Aurelia Zenobia Queen of Palmyra circa 230 - 274 63rd great-grandmother
Also - 13 generations of Kings/Queens that ruled Brittany, France


Famous writers in my family tree

Louisa May Alcott - 7th cousin five times removed, Laura Elizabeth Ingalls - 13th cousin thrice removed, Madeleine L'Engle - 15th cousin, Mark Twain - 16th cousin 7 times removed, L. Frank Baum - 17th cousin five times removed, Henry David Thoreau - 17th cousin four times removed, C.S. Lewis - 17th cousin once removed, Emily Dickinson - 19th cousin twice removed, Ralph Waldo Emerson - 18th cousin three times removed, Stephen King - 19th cousin three times removed, Stieg Larsson - 24th cousin thrice removed, Lewis Carroll - 19th cousin, Jonathan Swift - 14th cousin 8 times removed, Robert Louis Stevenson - 21st cousin once removed, Carl Sandburg - 18th cousin thrice removed, Jack London - 20th cousin twice removed, T. S. Eliot - 19th cousin twice removed, James A. Michener - 21st cousin once removed, Roald Dahl - 22nd cousin once removed, Zane Gray - 22nd cousin

Unusual relatives

Sir Isaac Newton -12th cousin 8 times removed, Vlad the Impaler Dracula, Prince of Wallachia - 10th cousin 17 times removed, Lizzie Borden - 10th cousin 7 times removed, Bathsheba Ruggles Spooner - 8th cousin 11 times removed, Gypsy Rose Lee - 14th cousin three times removed, Isadora Duncan - 15 cousin 4 times removed, Lady Godiva - 25th great aunt (unproven - but true if Thorold, sheriff of Lincolnshire and my 24th great grandfather, was her brother as has been speculated)

I recently found out that my Scottish ancestor Sander Leendertse Glen, who married my Dutch ancestor Catalijn Donckes in Holland in 1638 then immigrated to NY, got rich and built a stone mansion along the Mohawk River. It was rebuilt after a flood, later renamed the Glen Sanders Mansion, and is now a hotel. I need to plan a trip there!

I have numerous cousins involved in both sides of the Salem Witch Trials, as well as survivors and casualties of the Titanic sinking.

Famous Americans in my tree

Barrack Obama US President - 7th cousin once removed (8th cousins Sasha and Malia), Jacqueline Kennedy Onassis - 8th cousin twice removed, Israel Boone (Daniel Boone's brother and a Quaker in 1600s PA) - 7th Great-grandfather, Abraham Lincoln US President - 12th cousin 7 times removed, Leonard Calvert first governor of Maryland - 11th great-grandfather, Cornelius Van Dyke physician/surgeon (Van Dykes settled New Amsterdam aka NYC) - 9th great-grandfather, Hendrick Van Dyck Ensign of West India Company & shady history with the Natives - 10th great-grandfather, Edward Tegg/Teague (settled Tegg's Delight)- 10th great-grandfather, and my paternal great-grandfather was a bootlegger during prohibition and murdered by another bootlegger (There is a mountain named after his family)

Hollywood cousins

Brooke Shields - 15th, Sarah Jessica Parker - 18th, Reba McEntire - 19th, Christina Applegate - 19th, Beau Bridges - 19th, Hugh Grant - 22nd, Ellen DeGeneres - 22nd, Seth MacFarlane - 22nd, Josh Brolin - 22nd, Jodie Foster - 22nd, Kurt Russell - 22nd, Matthew Perry - 22nd, Paris Hilton - 22nd, Warren Beatty - 22nd, Matt Damon - 22nd, George Hamilton - 22nd, Shirley MacLaine -22nd, Andie MacDowell - 22nd, Johnny Carson - 23rd, Val Kilmer -24th, Diane Keaton - 24th, Bruce Dern - 24th, Teri Hatcher - 25th, Mark Hamill - 25th, George Clooney - 25th. 100+ more are once, twice, and more removed, including Elizabeth Montgomery, Marilyn Monroe, Judy Garland, Ginger Rogers, Elvis Presley, Celine Dion, Jim Parsons, Spike Lee, Janis Joplin and Bette Davis

Native American ancestors

Iroquois Mohawk/Kanien'kehá:ka "People of the Flint" (a native tribe of NY) - Grietje, 8th great-grandmother from Albany NY, married Pieter Jacobse Borsboom of Holland - A land deed written in 1697 shows a wolf drawn upside down by one Rode Indian of the Mohawk tribe. The deed transfers land from Grietje to her daughter's family. The Mohawk tribe are matrilineal, meaning succession is through the female line. According to Mohawk Frontier by Thomas E Burke Jr - In February 1680 Sheriff Richard Pretty cited Grietje with having a beaver pelt under her bed. When he tried to take it, she "threatened to pull his hair if he did so, so that he was forced to leave." As he was leaving, he was "offered two beavers to settle the matter."

National Geographic Genomics Project

mtDNA Haplogroup U (Ursula) L3 - my "Mitochondrial Eve" originated in Africa about 150,000 yrs ago near Kenya/Ethiopia area

23andMe DNA project

Haplogroup U5B2A1 - 72.8% Irish and British, 5.5 Scandinavian, 2.6% French and German, 18.3% Broadly Northwestern Europe, 0>6 Broadly European, 0.1% West African, 1% Broadly Sub-Saharan African, and 0.1% unassigned (Probably Native American). An estimated 2.6% of my all my DNA is from Neanderthal.

Ancestry DNA project

44% Great Britain, 30% Ireland, 14% Scandinavia, 4% Finland/Northwest Russia, 2% Europe West, 2% Europe East, 2% Iberian Peninsula, 1% Native American, and 1% Italy/Greece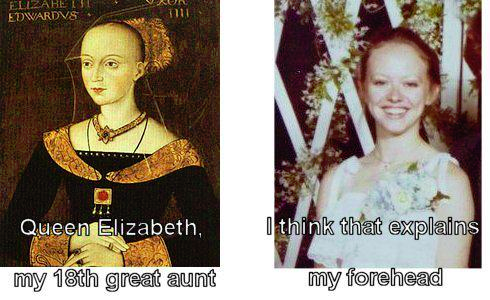 The above is Queen Elizabeth Woodville, otherwise known as "The White Queen". You may have heard of her.

Princes William and Harry Windsor are my 14th cousins. Hmm, maybe the royal guards will let me in the palace gates now.

My family surnames (ongoing research)

The Scots - Alexander, Brewster/Bruster, Davis, Cannaday/Kennedy, Dow, Easden, Frazier, Hemphill, Kirk, McCurry, McKnight/McNitt, Pogue, Ramsey, Scott, Sharpe, Wallis, Wilson, Wright

The Irish - Acklam, Bartrim, Burke, Coffey/Coffee, Day, Doyne/O'Doyne, Doherty/O'Doherty, Jeffers, Lawler, Laird, McDaid/McDevitt/Mac Daibheid, MacEoghan, MacLughaidh, MacMurrough/Mac Murchada, McCurry, McGee, McMahan, O'Brian, Swyny/McSweeny, Teague
The Dutch and Norwegians - Botjagers, Borsboom, Dirks, Gormsson, Van Dyke/Van Dyck, Mebie, Van Norden, Sielo/Siele, Svendsen, Tveskæg
The Belgians - Laeckens
The Brits - Albritton, Armour, Arnold, Baker, Barnes, Birdsell, Boone, Brent, Calvert, Carpenter, Conyers, Crabtree, Crossland, Cruse, Dabney, Danby, Dawson, Dayton, De Bretteville, Dunham, Eckerman, Falconer, Fine, Gardiner, Green, Gilbert, Gooch, Graves, Green, Harbin, Harrison, Hawksworth, Hopton, Hosteed/Hostead, Jarman, Lackland, Loftin, Nodding, Odom, Pate, Payne, Pendleton, Plantagenet, Reed, Schufelt, Somerset, Stone, Strangeways, Teague/Tegg, Thomas, Tuttle/Tuthill, Wagstaff, Washburn, Webber, Wilbourn/Welbourne, Windham, Wells, Wooten, Young
The Canadians - Young, Partlow, Pilkey
The Welsh - Davis, Gwyn/Winn, Cynan, Gruffydd, Lorwerth, Llewelyn, Merfyn, Frych, Maugridge, Morgan, Mynne, Roberts, Williams
The Germans - Brewer, Creekmore, Crupper, Herrmans, Martin, Rau, Schufelt, Williams
The Swiss - Flurnoy/Flournoy
The French - Cardin, De Courteney, Du Trieux, Noiret


Royal Ancestors (not including many with Lord/Lady, Countess/Earl, Duke/Dutchess, Baroness/Baron titles)

Todd Davis Memorial Scholarship

My seventeen-year-old nephew died in 2008 from injuries he sustained in an automobile accident with an impaired driver. My brother and his wife have set up a college scholarship in his memory if you wish to donate. Anything is appreciated and is tax deductible.

The Todd Davis Memorial Scholarship is open to all University of Houston-Clear Lake (UHCL) students who have volunteered their time at UHCL for leadership events.

There are three ways in which you can donate:

1. www.uhcl.edu under the "give to UHCL" tab. Just be sure and select "scholarships" in the gift designation box and put "For the Todd Davis Memorial Scholarship" in the memo box just above the "Personal Information" section on the page.

2. or you may call Kim Herhold at UHCL at 281-283-2036 and pay by credit card over the telephone. Visa, MasterCard, Discover and American Express are accepted.

3. or you may mail your check to: UHCL, Office of University Advancement, Attn: Kim Herhold, 2700 Bay Area Blvd., Box 318, Houston, TX 77058

Note: please write "Todd Davis Memorial Scholarship" in the memo section of your check. And please check with your employer's HR department to see if they participate in a matching gift program.

Free stories and articles (PDF)
Please remember that these stories, articles and photos are copyrighted and may not be copied or transmitted in any format without written consent from Dana Davis and/or the publisher/magazine.

"A Crack in the Vinyl"
originally published at SynergEbooks Publishing - This story also made the top ten percent in Oceanview Publishing's Twisted Short Story Contest and was called "a pleasure to read".
"Artist's Brush"
wrote this one a while back but workshop readers seem to enjoy it so I decided to post it